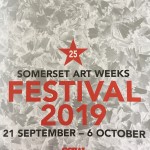 It's here at last! Your 2019 opportunity to explore the very best in contemporary visual arts in Somerset.
From 20 September to 6 October more than 300 artists will be showcasing their work at special venues all over the county. There is so much talent in Somerset and such a variety of art on display. There is something for everyone. You will find paintings, glass, driftwood sculpture, carved wood and stone, ceramics, jewellery, textiles, printing, film, and photography. As well as the exhibitions where you can often meet the artists, there are various events at locations across the county including a writing workshop, poetry readings and conversations with the artists.
This year groups of artists are exhibiting together in some exciting venues including galleries, barns, studios, a hospital and an old prison. Many of the venues focus on a particular theme.
The artists exhibiting at Leo Davey's studio in Minehead are all inspired by our wonderful Exmoor land and seascapes. You will see here Leo's beautiful watercolour and oil interpretations; Joanne Horrobin's copper and vitreous enamel sculptures; Sara Fox's fine silver jewellery and Sue Lowe's richly textured prints.
At Old Cleeve eight artists have joined forces to provide a feast for the senses: painting, sculpture, woodcuts, and jewellery. At Two Rivers Paper Mill you can see paper being made by hand as well as works by a number of local artists and Emma Duke's driftwood sculptures in Crowcombe are a must.
There are 135 venues across Somerset, so what are you waiting for? Go and see for yourself. But be quick. The last day is Sunday 6 October.
You can find full details of all the artists and venues in the free guide or at www.somersetartworks.org.uk.
You never know, you could find an heirloom of the future.